Junction Box / Patch Panel
DJB Instruments UK Ltd provide a fully custom service for the design, build and testing of junction boxes for the use in vibration test facilities.
Junction boxes also referred to as patch panels are often used to provide a connection between vibration control systems or data acquisition systems located in a remote control room or next door safety area and the test chamber itself which may contain an electromagnetic or hydraulic shaker or other noisy or potentially dangerous test rig.
From many years of experience we have found that no two customer requirements are quite the same due to connector types, channel count, cable lengths, box requirements, labelling etc. so we create a custom drawing and configuration plan for every customer. We can provide a wide range of bulkhead mounted sockets fitted into the junction box (10/32 microdot and BNC
are the most common) connected via low noise or non low noise cable of any length via a cable gland and cable sleeving to breakout connectors of almost any sort (BNC plugs are the most common selection).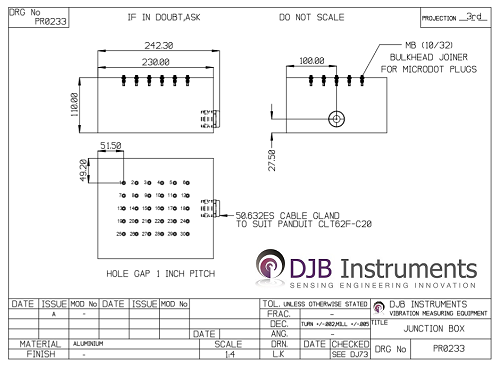 The junction boxes can be flanged or with mounting holes, painted or powder coated and can include engraved labelling for channel numbers.
If you would like to discuss a junction box assembly for your facility please contact our sales team on +44 (0)1638 712288 or email sales@djbinstruments.com