New Tapped Base Miniature Monoaxial Accelerometer Launched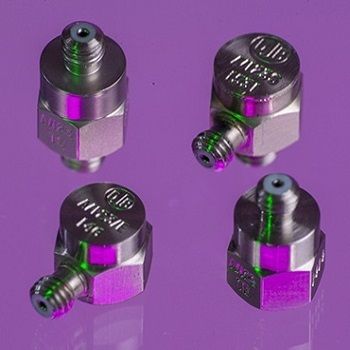 DJB Instruments UK Ltd has launched the latest product as part of their 2019 product development plan. The latest miniature monoaxial accelerometer, the A/123 (IEPE) and the A/23 (PE charge) is now available with a tapped base to provide a range of mounting options with only a minimal change in accelerometer dimensions or mass, in addition the high temperature performance is improved at 250°C
The new mounting method uses a 5-40 UNC tapped hole common to DJB's other latest release the AT/10/TB & AT/01/TB triaxial, these can now both use the same range of mounting studs and isolated mounting options to provide a truly flexible yet compact accelerometer solution.
Machined in titanium with a fully welded construction for robust and reliable performance the A/123/TB and A/23/TB tapped base models retain DJB's unique Konic Shear® design which continues to be the basis of 90% of the accelerometer product range.
The Konic shear® design, originally patented by the company's founder Don Birchall uses a cone of piezoelectric ceramic rather than the more traditional shear plate or compression disc element. The radial design of the Konic Shear® element provides unrivalled performance in the removal of cross-axis error, in addition to near complete isolation from base strain error. Click here for more information about Konic shear®, cross axis and its effects or base strain error, or look for their regular training announcements.
DJB's Sales & Marketing Manager, James Wren, said of the new accelerometer … "The A/123 and A/23 are yet another example of one of our most popular products taken to the next level through continued enhancement. With an increase in demand from our customer for tapped base mounting it was a simple decision.'
The A/123/TB and A/23/TB are available to order now, with side entry and top entry 10/32 UNF microdot connectors available.
For more details about the A/123 and A/23 ranges please visit the DJB website or call the sales team. DJB Instruments UK Ltd Sales +44 (0) 1638 712 288 or email sales@djbinstruments.com