DJB Launches Micro Miniature triaxial IEPE accelerometer up to 200°C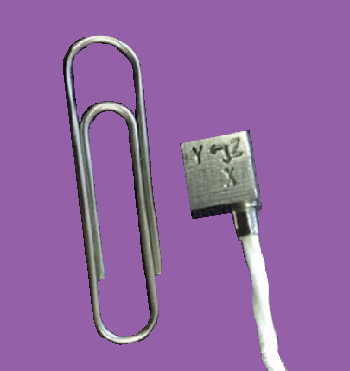 DJB Instruments UK Ltd has announced the launch of the AT/18 ultra-lightweight micro-miniature triaxial IEPE accelerometer. In line with the company's drive to produce robust, reliable accelerometers the AT/18 features three fully independent ceramic shear/mass sensing elements, welded into a Titanium body to minimise risks of signal failure and cross axis issues, maintaining the highest levels of data accuracy.
Supplied with an integral 1m cable fitted with an industry standard ¼-28 UNF socket it provides maximum flexibility and can be used with common triaxial cables for extension of signal connection. Weighing in at just 1.2grams and measuring 7mm x 7.5mm x 5.6mm it offers triaxial measurements on the lightest of structures due to its almost invisible impact on mass loading.
Manufactured in DJB's own facility in the UK, every component of the AT/18 is machined to the highest levels of precision working with tolerances of just 12 microns, the precision nature of the AT/18 is essential to its high performance and reliability. The AT/18 has been through rigorous testing to enable it to achieve an operational temperature specification of 200°C whilst maintaining no loss of dynamic range. This high temperature IEPE performance is achieved via DJB's industry leading hybrid amplifier electronics using its bespoke ultra-high temperature ASIC chip.
DJB's Technical Manager, Gary Chadwick said "The AT/18 represents a culmination of our years of experience and technical innovation in the fields of miniaturisation and high temperature IEPE technology. We have worked extensively with customers during the testing of the AT/18 configuration to ensure field performance reaches the highest levels."
The AT/18 is available to order now, sensitivity options being 1mV/g, 5mV/g and 10 mV/g with other sensitivities available by request. Extension cable assemblies are made to customer requirements at any length.
Full details are available on the website. Don't forget to download our Technical Reference & Product Guide to discover other products that may be of interest. Give us a call or send us an enquiry to discuss your testing needs and how we can help
For more details and to receive a quotation call Sales on +44 (0) 1638 712 288 or email sales@djbinstruments.com