DJB present Accelerometer Training at MIRA Technology Institute 2018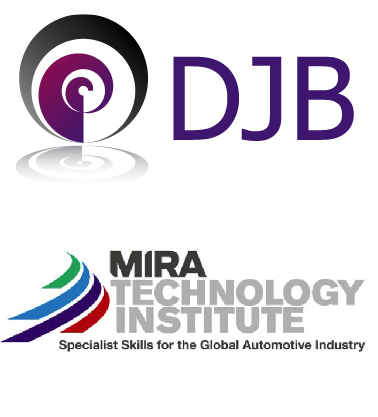 DJB are spreading their wings by taking their unique accelerometer training seminar to several UK regional venues. The training which is now in its 6th year has become the 'go to' event for anyone using accelerometers who is brave enough to admit that perhaps their understanding of the technology and how to use it may not be up to scratch. DJB are pleased to announce they will be one of the first to present training at the brand-new MIRA Technology Institute in Warwickshire and advise early booking to avoid disappointment.
"Accelerometers, the truth and more"
Where: Warwickshire • When: November 7th • Duration: 2-2.5 hours

Course Overview:
• Principles of operation – Piezoelectric effect, materials used
• Accelerometer types and correct selection – Construction, charge output, IEPE, temperature effects, mass loading, sensitivity, common problems, pros and cons.
• Importance of correct cable use - low noise or non-low noise, what happens if you get it wrong, signal loss, tribo-electric noise, cable fixing, connectors,
• Mounting methods and which to use – stud, wax, adhesive, magnets, tape, which and why, isolation, ground loops
• Associated instrumentation – Charge amplifiers, IEPE voltage conditioning, data acquisition
Cost: £75 including full course notes.

Click here to book your place or to ask about on site training options
Why attend?
With over 40 years of experience from design through to manufacture, Information direct from the manufacturer will indeed give you the exact detail enabling you to utilise within your own set up to directly improve your data results.
Who should attend?
This course is aimed at existing accelerometer users, engineers, new users, specifiers and product designers from automotive, aerospace, industrial and sports science applications providing a refreshing view on how to avoid error, maintaining accurate data results.
What are DJB known for?
• The only global accelerometer manufacturer using the DJB Konic Shear design
• Continual future innovation through joint academic research programs and internal material developments.
• High temperature IEPE accelerometer solutions 185°C
• Engine, turbo & exhaust mount accelerometers to 900°C
• Micro-miniature single and triaxial accelerometers
• DC MEMS Range of accelerometers
• Associated instrumentation and inline signal conditioning
• Specialist Calibration and Cabling Facilities
• On-site, National & International Training events
Customer focus is at the heart of our business, proud to offer technical support to ensure peak performance with additional services and specialist facilities for calibration, cable assembly and repair all based on site to aid the longevity of the products whilst enabling engineers as and when they need it.